stories & quotes


Jubilee celebrates 30 years of transforming lives
We are excited to celebrate our 30th anniversary this year – 30 years of working with women to help them get back on their feet after trauma and uncertainty. As we reflect back on the women who have come through our doors, many stories come to mind, including one from a former resident, Janine.
"I grew up in a middle class home in California. I attended college, earning degrees in psychology and accounting – which I love – and worked as a Tax Manager with my own business. I was happy and had a sense of community. I never thought that I would end up homeless.
When I met my husband, he was kind and very attentive, but three years into the marriage he became increasingly controlling and jealous. Soon, screaming led to pushing and slapping until he finally beat me up. I ended up in the hospital and he went to jail. After a while, the letters came promising change and saying he was sorry.
I never understood why a woman would stay in a domestic violence situation. But there I was. I took him back. A few months later, the screaming started again, but this time he threatened to kill me.
I flashed back on an experience I had while in college. I had visited the District Attorney's office and on the walls were hundreds of pictures of women who had been killed by their husbands. I did not want to end up as one of those pictures on that wall.
I did not tell my family. I felt stupid and ashamed for taking him back and getting into this situation again. I gathered my stuff – only taking what I could fit in my car and left everything I owned. I lost everything. I left my family, friends, church, business and everything I had ever known.
On the road with no knowledge of what the future held for me or if I would even survive this, I prayed while traveling up the west coast. With tears in my eyes, I got on my cell phone and called the Domestic Violence Hotline. They gave me numbers for shelters and housing in Seattle. I knew I could not stay in California with my family because he would find me there.
Before I left California, I had contacted an accounting firm to try to get work in Seattle. Jubilee was listed as a good place to receive clothes so I called for an appointment to get an interview outfit.
I was staying at a hotel and my money was running out. The day I arrived at the Jubilee Boutique, the staff and volunteers were very nice and they asked me about myself.
I cried and explained what had brought me there. The clothes I received were perfect for my interview. I was so proud when I walked into my interview in a designer blue suit. I was dressed as well as the partners in the accounting firm!"
Janine lived at Jubilee while getting back on her feet. She now has her own apartment and is living independently. We are so proud of what Janine has accomplished after living at Jubilee. She is just one of over a thousand women who have come through our doors and transformed their lives.
Jubilee Cares for Body, Heart and Mind
A medical emergency can devastate a person physically, emotionally and financially. Oftentimes, women experiencing poverty face the dilemma of treating their health issues, buying medications or providing for their basic needs like food and a roof over their heads.
Seventy-five percent of Jubilee's residents have serious medical issues. Women battle recurrences of cancer; suffer from severe arthritis; struggle with severe pain due to untreated injuries; experience vision loss; and a host of other physical ailments. Some residents cannot work due to an accident. One experienced a fall, breaking both her knees, then accumulated massive debt trying to pay for hospital bills, eventually losing her job and home.
Living below the poverty line is one of the most reliable predictors of depression and other mental disorders in women, according to the American Psychological Association. All Jubilee residents have experienced the trauma of instability. Many residents have lived through haunting experiences of physical, verbal and psychological abuse. Some work to maintain their sobriety.
When poverty and health issues meet, Jubilee steps in to help. Jubilee's care managers work with each resident to help her gain access to the resources she needs to get healthy and back on her feet. Our partner agencies assist us in achieving our mission by providing medical, mental health, vision and dental care at reduced or no cost to the women we serve.
Jubilee is invested in the health and wellness of women, advocating for them to have the care they need and deserve. If you know a health care professional interested in providing pro-bono health, dental or vision care for our residents, please contact us at This e-mail address is being protected from spambots. You need JavaScript enabled to view it !
From the desk of Cheryl Sesnon, Jubilee Executive Director
Greetings!
Jubilee is nearing our 30th anniversary; thirty years of providing a safe haven, healing environment and nurturing community. We recognize this as the foundation needed for women moving out of homelessness, domestic violence and other traumas. One of the most frequent quotes we hear from new residents is, "I can breathe again." Jubilee provides an environment that allows women time and space to reflect on their pasts and build their futures.
As with any and all things, Jubilee is continuing to change and evolve. Our focus over the past 30 years has been on providing housing, care management and classes to help women get back on their feet. This year, our board of directors engaged in a strategic planning process, determining a need to expand our services to more women and strengthen the program for our residents. The new design includes a more comprehensive program to move women from transition to creating stability and building a safety net to ensure resiliency during future challenges.
It is a daunting undertaking for someone who has lost so much to rebuild her life. We all know the economy is bad, but it is exceptionally distressing for those who have been out of the job market for years, are older or have limited physical ability. The job market is full of young, eager college graduates as well as people with years of experience who are willing to accept a lower position in order to have a job. Our previous approach is no longer sufficient to get women back into living wage jobs. We are refining and creating new classes in computer skills, job readiness, interviewing, financial management, overall communication, cultural competency and self-awareness. These classes will not only be available to our residents, but also to other women experiencing poverty in our community on the path to self-sufficiency. Additionally, we are partnering with colleges and other agencies to allow access to trainings in vocational and technical skills. There is much work to do, but we understand it needs to be done.
I can visualize our 35th anniversary – hundreds of women coming to Jubilee, acquiring the skills and tools they need to be successful, leaving poverty behind, reconnecting with their inner strength and finding a community of support and love.
Thank you for your support in making this vision a reality.
Cheryl Sesnon, Executive Director
Residents reflect on what Jubilee means to them
Jubilee Women's Center is in the early stages of creating a strategic plan to help guide us through the coming year. Part of this process involves talking with residents to include their voices, gathering information about what is working well for them and what they would like to see us add or improve upon.
Here's what we've learned from residents so far.
How has Jubilee impacted you? I...

Feel safe
Finally have time to heal
Am learning boundaries
Have made friends with women who share similar experiences and an understand what I am going through
Have a chance to step back, reflect and choose my direction
Feel a sense of relief
Have privacy in my own room
What makes Jubilee's program successful?
One-on-one coaching from my care manager
Classes that help me get back on my feet
Scholarships for school books
Living with residents who have common goals
Community meals help with my budgeting
The community supports us and stands behind Jubilee's mission
Residents are included in the process of developing new curriculum
Our basic needs are met so we can focus on bigger life goals
How has Jubilee helped you to achieve your goals?
The program has given me a lifeline and hope for my future
I have been able to become more self-sufficient, self-reliant and independent in my daily life
It has provided me with stability and rest so I can focus on the bigger picture
It helped me get a scholarship to go back to school
I have support accessing community resources
My care manager provides the time and space for me to share, provides compassion and gives me feedback
Jubilee cares what happens to me
I am not just a number here
I map out goals with my care manager and see my progress
I feel empowered
I don't feel isolated anymore
I have time to breathe
Classes in the computer lab helped prepare me for work
Housing 101 class helps me understand my housing options
My care manager believes in me even when I do not


"I've had the opportunity to meet some amazing people and had access to things like classes, the free clothing boutique and healthy food. I have been able to start to rebuild my life." - Jubilee resident
"Jubilee has allowed me to ease the burden of being homeless and offered me a lot of resources to help me get my life back on track." - Jubilee resident
Jubilee residents speak up for homeless women
Jubilee recently hosted an eight-week Women's Justice Circle, a project of the Intercommunity Peace & Justice Center. The Justice Circle allows women to gain the tools and support to advocate for themselves on issues that affect their lives. The participants chose to focus on creating a centralized application and process for all local low-income housing agencies. Currently, when applicants apply for housing each agency has their own application process and charges their own fees for background and credit checks.
The Justice Circle invited advocates from seven local organizations to be a part of their final discussion. Our residents gave personal testimony on the need for a universal housing application and received feedback about this centralized process idea. Organizations included: Low Income Housing Institute, Catholic Community Services, Housing Development Consortium, City of Seattle Human Services, Building Changes and Tenants Union of Washington. Several of the guests committed to working on this issue with Jubilee.
Women's Justice Circle volunteer, Louise McDonald, reflected on the experience:
"It was an honor to meet Jubilee residents who chose to participate in the Women's Justice Circle. Knowing of their daily stresses, I was impressed by the time and effort they put into the eight-week process. They remained faithful during the tedious arrival at consensus on an issue around which they wanted to organize for action. It was inspiring to watch their sense of empowerment grow as they wrote personal letters to their state legislators on the Fair Tenant Screening Act, which passed and was signed into law by the Governor."
From the desk of Cheryl Sesnon, Jubilee Executive Director
Greetings!
During a recent resident meeting, we conducted a focus group to gain feedback from the women. I was so inspired by this experience that I wish we could have filmed it. One of the questions we asked the women was, "How has Jubilee impacted you?" The statement that struck me the most was, "I finally have a chance to reflect."
Not long ago, a resident was telling me about an issue she was having with someone. I asked her, "How did you contribute to the conflict?" She started crying and said, "It has been so long since I've had the luxury to reflect on my own actions. I'm not sure I remember how." Her words struck me. I realized that reflection is a luxury that not all people are afforded, and that it is something you practice.
When a woman is spending her energy finding a safe place to sleep that night or her next meal, it is nearly impossible to think beyond survival mode. One of the hardest things I've had to do in my own life is to reflect on my accountability in a situation, examining how my attitude, words and actions may have caused or contributed to a problem. By understanding I could not change another's behavior or actions, but taking responsibility for my own, I was able to move from being a victim to becoming accountable and making positive changes in my life.
At Jubilee, our residents have the time, safety and opportunity to reflect and learn new, effective and empowering skills to take control of their lives and create better futures.
Cheryl Sesnon, Executive Director
Jubilee Women Take Action
On March 24th, seven Jubilee residents traveled to Olympia on Catholic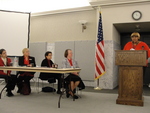 Housing Advocacy Day to take action in the political process. The women participated in an eight-week workshop called the Women's Justice Circle, a project of the Intercommunity Peace & Justice Center, which allows women to gain the tools and support to advocate for themselves on issues that affect their lives.

Facilitated by volunteers Whitney Lewis, Leslea Bowling and Catherine Endicolf, the Circle of Women discussed issues that impact their lives and chose to focus on one that affects every woman at Jubilee - lack of affordable housing. Fewer vacancies in subsidized low-income housing during the economic recession has lengthened the wait for independent housing significantly to three to five years.
In hopes of creating change, the Jubilee women shared their personal stories with legislators, along with the stories of their fellow residents who could not attend, of how a lack of affordable housing has impacted their lives. "It was not only amazing to see the women of Jubilee become empowered but also realize that I too was empowered through this process," said volunteer Whitney Lewis.
A Jubilee resident expressed, "before participating in the Circle, I was a spectator. I sat back and watched the action. I never thought that I would be heard. By participating in the Circle, I learned the process of making change happens, and I learned how to go about speaking out for my concerns."
Whitney also noted, "It was a very special thing to be able to work with such a diverse group of women and find power in our commonalities that we then leveraged to try and make a change."
In the Justice Circle, I learned…
"I do have power to make things different."
"Democracy in action still exists and that as people and as a demographic group we have collective power in organization."
"How to be an advocate for my beliefs and the process to get my issue heard."
From the desk of Cheryl Sesnon, Jubilee Executive Director

In the news, we are hearing about the huge cutbacks happening at all levels of government. Here at Jubilee, we are experiencing the state budget cuts in a painful way. It is a frightening reality and daily crisis for our residents.

About 50% of the women living at Jubilee have a level of disability that prevents them from being employable at this time. This might be a result of a disease like cancer, an accident or even disabling trauma from abuse. They survive off of a state government assistance program known as Disability Lifeline, which is their only source of income for everything including the very basics such as food.
Prior to January 1st, 2011 – Disability Lifeline was $339 per month
Beginning January 1st – it was reduced to $258 per month.
Beginning April 1st – it was further reduced to $197 per month. Yes, that is a little over $6 per day to try and survive in Seattle where even a one-zone bus pass costs $2.50.
When our most vulnerable are already living at this extremely minimal level, it is shocking to me that our state is making choices to further reduce this basic lifeline. There is talk Disability Lifeline will be cut further, possibly completely, in July of 2011.

I think it is important for all of us to be aware of the impact funding choices have on our most poor. We may reduce spending in the short-term, but we could be creating enormous and expensive problems for ourselves in the future. We may be setting up scenarios where it becomes impossible for people to get back on their feet and become reengaged and productive in our community.

If you are wondering how you can help…
Get involved in advocacy. Your voice, combined with our voices, may make a difference. In March, a group of 7 Jubilee residents went to our state capital to share their personal stories in a very public way to legislators. It took tremendous courage, but they have much to lose.
Donate grocery store gift cards to our Jubilee women. They can't afford to buy fresh fruit, greens and other healthy food on their reduced incomes.
Mention Jubilee to your providers with the request they consider pro bono help for the women at Jubilee. Along with the cuts in financial assistance, the state has cut ALL dental and vision assistance. That means our women don't have access to any of those services.
Contact us about having a small fundraiser, or even awareness raiser, at your workplace or home. We would love to share information and stories about the important work of Jubilee.
Donate your clothes, personal care/hygiene items, and other basics to Jubilee.
We are grateful for your continued support, concern and belief in our Jubilee community.
Cheryl Sesnon, Jubilee Executive Director
A Resident Speaks in Olympia
I am a constituent in the 43rd District, currently residing at Jubilee Women's Center, which provides transitional housing for women. My issue today is with the housing situation in our district. In 2007 I lost my job, which is around the time our economy began a downward spiral. My unemployment benefits took two months to start up and, in the meantime, I fell behind on my rent which eventually led me to being evicted. With nowhere to go, I found myself homeless. You know family can only help you for so long, so I sofa surfed for a while and I even went into drug treatment, even though I was clean and had been since 2003; I was desperately seeking shelter.
That only led to a couple of clean and sober houses, but that was like putting a band-aid on a deep wound. Not only was I homeless, but my health was going downhill at a very fast pace. I fell into deep depression and all other kinds of sicknesses, while without health insurance. I found it was almost impossible for a woman with no children. I just stumbled across Jubilee Women's Center, where I live now, in December 2010.

Not one person should have to go through all of this drama after working so hard and paying taxes, only to find yourself dangling on a limb all by yourself. Where is the help when you need it? I am standing here today on behalf of lots of homeless people, to ask that you make housing a top priority. It is a very serious issue and I appreciate you allowing me this time to express my feelings on the matter. Hopefully, we can move forward on this to turn this tragic situation into a victorious one.
- J
TLC for the LTC
Thanks to grants from The Boeing Employees Community Fund and the City of Seattle's Bill Wright Technology Matching Fund, our Learning and Technology Center (LTC) recently received major upgrades, including 11 new computers! The LTC is a free resource for residents and other low-income women in our community, where they can access onsite technology classes, workshops and one-on-one coaching.
Technology classes in the LTC are taught by dedicated expert volunteers and include Intro to Computers, MS Word, Excel, PowerPoint, Publisher, Access and Web Development. Residents are also able to earn a Microsoft Office Specialist certification which can boost their career development.
Jo Bader, a volunteer in the LTC since 2001, has noticed more interest in the Microsoft Office Specialist certification program, a test that was difficult to administer on the older computers. "These women understand that employers value candidates who can demonstrate their computer skills in a universally-accepted way," says Jo, "The LTC was definitely due for an upgrade!"
"Now, Jubilee residents are working with first-rate computers and current software in order to compete in today's job market. We are looking forward to increasing our class schedule and utilizing these computers to their full capacity," Program Coordinator Mo Whalen said.
Jubilee's Volunteers Make It Possible
On September 8th, residents, board and staff honored our volunteers and the wonderful contributions they make at our annual Volunteer Appreciation Party. We truly couldn't serve women in our community without their help! So far in 2010, we have had 430 volunteers give over 6,000 hours of their time at our front desk, in the boutique, cooking community meals, teaching classes, and taking care of the garden, among many other things. Pam Robbins was recognized as this year's Volunteer of the Year for her outstanding contributions – thank you, Pam!
From our residents:
"The volunteers have changed my life; just by the way they have given time, talent and money to help us. I have learned how to trust and love people more because of our volunteers. Thank you all."

"To all who make a difference in the lives of Jubilee residents: I am so thankful. The community meals have been fabulous, the clothes have been great, and the classes have been very helpful. Thanks to all the wonderful volunteers who so graciously provide their time and effort to improve the lives of women here."




"A big thanks to the front desk volunteers whose warmth and welcoming spirit make the first time you knock on the Jubilee door such a positive experience. It makes all the difference!"
A special thanks to Cafe Flora, Barrio, Café Presse, Irwin's, Samui Thai, Helsing Junction CSA and Piroshki on Madison for food and flowers!
Jubilee Resident named Volunteer of the Year
at The Center for Wooden Boats
Kirsten moved into Jubilee in June of 2008 after being homeless for five years. Her care manager encouraged her to look for a volunteer opportunity in the community, as she was unable to work.
A fellow Jubilee resident showed her an article about The Center for Wooden Boats, a nonprofit organization with locations on Lake Union and Camano Island that provides hands-on maritime experiences using a fleet of historic wooden boats. Kirsten had fond memories of sailing with her daughter years ago, so she jumped at the opportunity!
"I like that it is an active learning environment and I get to work with people volunteering their teaching skills," said Kirsten. "I was excited to learn to sail and I'm constantly improving my skills!"
Less than two year later, on March 26, Kirsten was awarded Volunteer of the Year at The Center for
Wooden Boats. Her volunteer supervisor, Kim Lorio, said that Kirsten was honored for her countless hours of participation in volunteer opportunities across the board from livery, to cutting toy boat hulls, to making auction phone calls, to handing out visitor surveys, to helping at events; and for her gung-ho attitude in approaching any and all volunteer tasks. Her once-estranged son even attended the banquet event. "I felt validated, and a bit like a celebrity!" says Kirsten.
Congratulations to Kirsten for finding a passion while also making a valuable contribution to our community!
Photos by Bryn Photography
Resident Reflections: 2 years After the Renovation
It has been two years since we completed the major renovation of our facilities, which turned a 1950's convent into a warm, inviting and dignified home for homeless women. From donated furniture, landscaping and marble counter tops - down to the spatulas in the kitchen - we couldn't have done it without the community's support! Because residents can stay at Jubilee for up to two years, many of the first residents to live at Jubilee after the renovation are moving out and into stable, permanent housing. We wanted to share with you a little bit about their experiences at Jubilee, and the personal successes they've achieved through a helping hand in a time when they needed it most.
"I didn't have any sense of purpose when I first came - I knew I had to change my life but wasn't sure how to do it. Under the guidance of [Care Manager] Mo Whalen, I came to know the things I needed to work on. I am now in my own apartment and going back to school to be a social worker. Now I am doing instead of wishing. I want to say thank you to the sisters who had the vision of what to do with an empty convent."
Thank you, J
"I was very blessed to be a part of Jubilee. For the first time in my life ever, I was able to finally let the wall down that I had put up for too long to find out who I really was. I learned I did not have to put up with abuse and if I put my mind to something I could accomplish anything. Jubilee was a very warm and strong place to be. The staff at Jubilee helped me to have confidence in myself and get on the right road again. When I left I had the tools in my belt to get things done I had to do. With all the classes that were available I learned how to deal with my emotions better and how to do Word on computers. I learned at Jubilee that I AM AND I CAN. I am forever grateful to have walked through the doors of Jubilee. That is where I started my new life and journey."
Forever grateful, S
"Jubilee was a place where I could breathe again and get back on my feet. After a domestic violence incident, I found myself homeless. All of the people in my life who I went to college with or were in the sorority with were not there for me when I needed them. Not even my own family. Thank God for Jubilee! I found a new family and women who really cared. Now I know what it means to have and be a friend during a time of need. You don't turn your back on people...I found out when I was homeless and looking for a place to live that there was more shelter for animals than single women. I was shocked.
Jubilee gave me the time to learn new life skills. I updated my computer skills, took classes on creating boundaries and how to live my dream life. We all took a self defense class. Cooking on a budget was one of my favorites. We would have free haircuts from a local hair salon which made all of us feel wonderful and I was able to go back to school and get retrained in Hospital Administration. Thanks to Jubilee, I am living on my own in a one bedroom apartment with a beautiful view of Seattle and interning at a local trauma hospital. I cannot thank them enough for helping me get back on my feet again."
"Mother's Day has new meaning to me now."
Tracie lived a comfortable life in California. She was married to her best friend since high school. They lived in a nice house with their six children.
Life was enjoyable – until her husband became a drug addict and abusive. "It started slowly," she recalls. "First he became slightly jealous. Then it became worse and worse – until he finally hid the phone and computer, and nailed the windows and doors shut when he left the house."
After her second stay in the hospital, CPS stepped in and placed her children in foster care. Tracie was sent home without her children. "I was absolutely devastated," she says. "But I also knew we all had to get away from this situation." Tracie's son Paul had a complex cardiac history and suffered a stroke at the age of 9 which left him a non-verbal quadriplegic. Tracie worried about him constantly.
Her husband's abuse escalated until her escape. At one point, he locked her in a bedroom and raped and abused her for three days straight. When he finally fell asleep, Tracie grabbed her wallet, ran upstairs, threw on the first clothes she could find and escaped out of the upstairs bathroom – the only window that wasn't nailed shut.
"I ran as fast as I could away from that house," she recalls. "I had $100 stashed in my wallet. I purchased a bus ticket for $78 dollars - I chose Seattle."
When she arrived, she had nothing. No kids, no home, no clothes (except what she was wearing) and no self respect. After weeks spent in the shelter, Tracie sought out domestic violence counseling and was given the number to Jubilee Women's Center, where she lived for nearly a year.
At Jubilee, Tracy began the long and arduous journey of getting her kids back. "Jubilee pointed me in the direction of so many resources," she says. "I couldn't have done it without them." She found clothing in Jubilee's boutique, got a job at Macy's, and began putting the pieces of her life back together.
She found a school for her kids and physicians for Paul. "Every day I would watch moms drop their kids off at the nearby school. It was heartbreaking – but it also motivated me to work harder to get everything in place."
Every other week, Tracie would take a long trip to California to visit her kids. During her three days off in the middle of the week, she would board a Greyhound and endure a 48-hour round trip bus trip so that she could visit her kids for a mere 4-hour window of time.
Her insistence on being in California at her son Paul's bedside after a surgery, she believes, kept him alive. She tells the story through tears. "I stayed by his bed constantly after his surgery. At one point, I looked at him and he had turned blue. They called Code Blue, and doctors and nurses came running. I spoke quietly to him, 'It's okay honey, I'm with you,' and his heart beat resumed."
In fall of 2006, the courts ruled that Tracie's children could be sent to Seattle to live with her. "I was absolutely ecstatic," she says. "There's really no way to describe the feeling."
Today, life is full. Tracie is in school to become a social worker. She rents a home in Bellevue where she lives with three of her children. Her oldest son, 21, attends college and is Paul's full-time caretaker. Her daughter will be graduating high school soon.
"Mother's Day has new meaning for me now," Tracie says. "I get coffee in bed, and mushy cards that make me cry. We appreciate each other so much more now."

I Am Not A Number...
I'm 263rd on the state list for Department of Vocational Rehabilitation
I'll be waiting for 3-4 months
I'm 1-2 years down on the housing list
In 3-4 months I should hear about my Social Security
My magic number is $339 a month in Government Assistance
and $127 in food stamps
I pay $200 a month in rent and live in transitional housing
4 months here and 14 to go
Before I have to leave for what I do not know
I'm one of 27 lucky women with a stable roof over my head
and a small room with 1 bed
I'd like to be somebody someday, somebody real, somebody strong
and have a real name
Instead of numbers strung along...

I hope eventually we will be people, not just numbers or statistics. Low-income housing has a 1-2 year wait list and other housing requires first and last rent, a deposit, rental history and a major investment. Jubilee Women's Center has given me a chance to stabilize myself. My life felt like a rollercoaster – not knowing if I'd be able to pay rent and not taking the best care of myself at times. Since I've been at Jubilee, I've learned computer skills, I have a case manager who has helped me prioritize and I'm encouraged to try new things that I've been hesitant to try before. Thanks to Jubilee I feel empowered to be good to myself!

~ M.M., Alumna
"Jubilee helped turn me from an ugly duckling to a beautiful, smart, intelligent swan. I started looking good and feeling confident with the clothes I got from the clothing boutique - all for free. The community meals, tickets to games, movies, ballets and symphonies have added to my self worthiness. The technology classes and the life-skills classes I've been taking have all benefited me in real life."

~ JWC
Alumna

"I lived at Jubilee Women's Center for one year and three months. The experience changed my life for the better. I came to Jubilee emotionally, physically and spiritually frazzled. The resources helped me to get physically healthy and more in tune with myself. I had a chance to heal emotionally through tears and laughter."





~ JWC

Alumna
A Success Story...
My heart was full of fear when I realized that I was homeless. I never had to face this issue before. I lived with one of my children for about a week and during that time I had applied for residence at Jubilee. Fortunately, there was an opening and I was accepted.

What I found here was not just a place to keep a roof over my head, but a place of support, safety, and encouragement. I felt that my life's direction had been very limited before I moved in. As time went on, I discovered that doors were opening for me that I could take advantage of. I was able to take a computer course through a community college. I found encouragement through the instructors there. I also had support where I was living through my case worker who was very knowledgeable of the many resources in Seattle and King County. I found my times with her very valuable. I felt very fortunate to have support in both places.

Being flexible, I did not have too much trouble living with 19 other women...Sure there were adjustments, but when your attitude is that "the glass is more than half full," it really helps.

It was invaluable for me to have the Learning and Technology Center. I use it for school work, to email friends and family members and for job searching. It is convenient for the women to email friends or do research on something without having to trudge off to the library. Frequently, I will come home and enjoy a Community Meal.

There is always something going on here—a computer class, a life skills class, volunteers bringing food or clothing, and residents supporting each other. There is nothing like a good massage after a long day to melt the troubles away! One of my goals was also reached while living at Jubilee, which is to have low income apartment so that my son and I can live together again. I feel very fortunate that I am able to secure permanent low-income housing.

In many ways though, I will miss my time here at Jubilee-- the caring staff, the friends I made here and the classes. I would definitely recommend Jubilee to a woman in need of housing and support. It has certainly been a life-line for me.

F.B.
JWC Alumna

Since this letter was written in the summer of 2005, F.B. has moved into a low-income apartment, has been reunited with her son and returns regularly to visit with residents and staff!